Is Calphalon a good brand? Calphalon is a notable company that provides a vast range of kitchen appliances, cookware, cutlery, bakeware, and various kitchen utensils.
Consumers respect Calphalon products for practically their entire range, obtaining highly high ratings and demonstrating excellent quality consistency. Consequently, this firm has all of the markers of a perfect brand.
Below, I have included samples of the top Calphalon items, emphasizing customer comments on how they feel about the product and whether they perceive the firm as dependable and trustworthy.
In this in-depth study, I lay down the advantages and downsides of Calphalon cookware.
So, if you're seeking an honest assessment of "Is Calphalon a Good Brand?" keep reading.
Calphalon Cookware Collection
There are 6 cookware collections, including a mix of nonstick, stainless steel, and cast iron cookware.
Most cookware in the Signature series contains a hard-anodized aluminum base covered with standard PFOA-free nonstick coating. However, there are a few 5-ply stainless steel pots and pans.
The triple-layer nonstick coating is 1.5 times more durable than the dual-layer coating used in the Calphalon Classic series. In addition, this cookware is metal utensil-safe and oven safe to 500°F.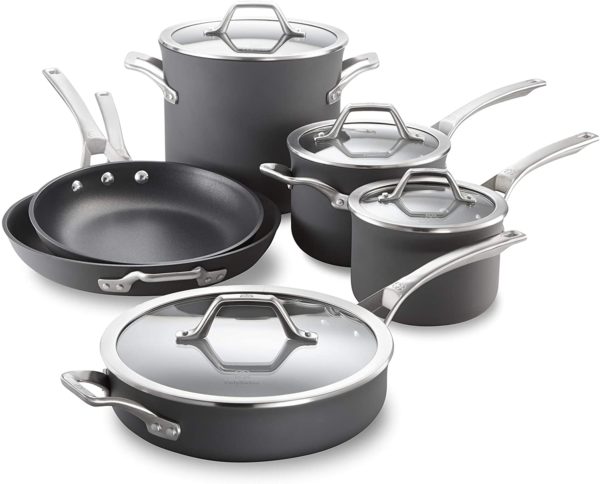 The Premier range offers time-saving and space-saving cookware features. It comes in 2 varieties: hard-anodized aluminum with standard nonstick coating and 3-ply stainless steel.
Many pots and pans are stackable, and a variety of saucepans incorporate pour spouts and strainer tops. The 3-layer nonstick coating is metal utensil safe. In addition, all Premier cookware is oven safe to 450°F.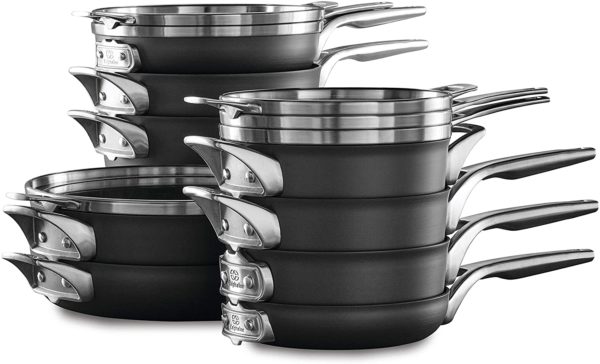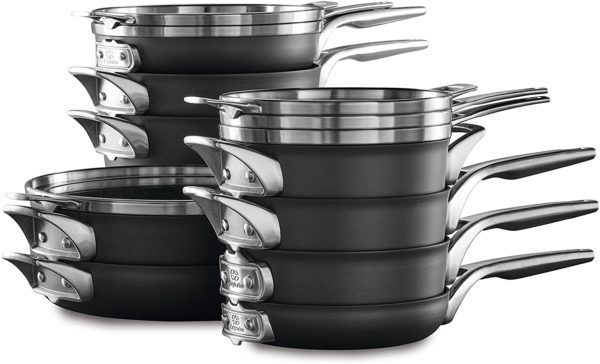 Classic is one of the most economical Calphalon lines. It provides a choice of hard-anodized aluminum with 2-layer nonstick or stainless steel parts.
The ceramic nonstick cookware is oil-infused, great for individuals who prefer to cook without butter or oil.
The stainless steel cookware incorporates impact-bonded bases with an aluminum core sandwiched by stainless steel.
This set also includes built-in measurement markings, pour spouts, and strainer lids. In addition, it is oven-safe up to 450°F.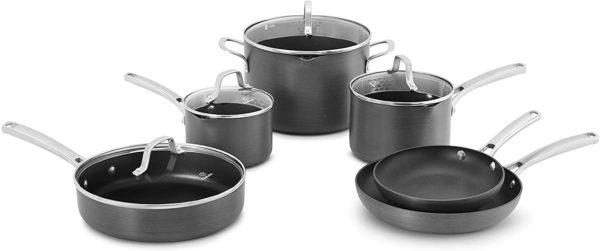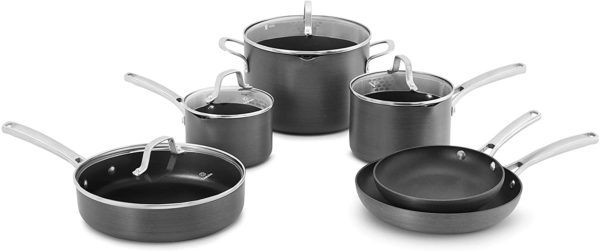 This hard-anodized aluminum cookware series has dual-layer conventional nonstick interiors. In addition, it includes stainless steel handles wrapped with silicone for comfortable handling.
It is manufactured with medium-gauge aluminum (gauge refers to its thickness), making it lighter than the Signature or Premier series. In addition, the cookware is oven safe to 400°F.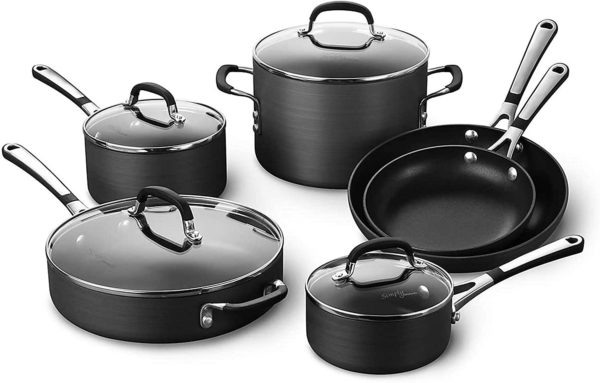 Features of Calphalon Cookware
Nonstick
The inside of the Calphalon select has 2-layer and a 3-layer nonstick substance.
This guarantees durability and makes sure there are fewer risks of burning food.
The nonstick also assists in releasing food quickly to make washing the cookware a joy.
Material
Your health comes foremost when it comes to picking cookware materials.
Calphalon doesn't create its utensils using PFOA, and they further incorporate free of BPA material in the process.
This implies no risk of any toxic substances getting into touch with your food.
Budget
Calphalon items are available at varying costs to meet your budget. Although buying an expensive one doesn't hurt in the long term.
First, know your desired pots and seek the vital decision to incorporate your necessary utensils.
There's an assortment of cookware, bakeware, and appliances to pick from on the market.
Safe to handle
It generally occurs when you suddenly desire to remove the cookware from the burner. In a rush, several of you burn your fingers severely.
Calphalon select comes with longer handles that contain stay-cool materials. This is to prevent such incidents and to give you durable handling.
Which brand is better, Calphalon or Cuisinart?
In terms of durability, I give the advantage to Calphalon since they provide 5-ply stainless steel cookware, and all of their nonstick collections are constructed from hard-anodized aluminum. Of course, Cuisinart cookware is sturdy, but you have to pay greater attention when selecting which particular set to buy.
Is Calphalon better than Teflon?
There is a distinction in the nonstick assortment that Teflon and Calphalon provide. Teflon provides 11 nonstick collections. However, it is shown that Calphalon goods are constructed with hard-anodized aluminum, which makes it more robust, and the shell is thicker with superior sturdiness.
Why Should You Consider the Simply Calphalon
Here are a handful of remarkable qualities or benefits you might gain from a brand new pair of Simply!
Number of pieces and pan sizes.
The set comprised 10 anodized aluminum cookware with tempered glass lids and riveted easy-grab handles. There are 2 omelet pans (1x 8-in. and 1x 10-in.sizes), 2 covered saucepans (1x 1-qt. and 1x 2-qt.), one 3-qt. Saute pan, one 6-qt stockpot, and 4 pieces of tempered glass covers.
Weight
As aluminum is good conductor of electricity, most nonstick cookware is constructed of this specific metal, and so does Simply Calphalon. However, it also implies that the cookware may appear a bit weighty. But overall, the weight of the outfit is 19lbs, lightweight enough.
Durability
It is crucial to decide if the cookware you choose will endure a long time or not. However, as we have already indicated, the major positive of the Calphalon model is its endurance. This is made feasible by its strong, nonstick aluminum composition. In total, even after five years of use, this set will stay as if they are brand new.
Materials
Is iron, stainless steel, aluminum, or cast iron the finest for nonstick cookware? However, if you pick only one material among those provided, we recommend aluminum. Why? Because in addition to being a good heat conductor (for quick and uniform diffusion), aluminum is also ultra-resistant. Finally, metal is a valuable and non-negligible element, cleaned with dishwashing liquid.
Lightweight, highly excellent conductivity, and low price, the aluminum material of the Simply Calphalon has several advantages. However, unprocessed aluminum may deteriorate and spread in food, especially acidic and extended contact. However, the aluminum material in the cookware set is anodized. Thus, the possibility of aluminum transmission into food is ZERO! Therefore, you benefit from a light utensil, which warms rapidly and easily maintains.
The aluminum material is cemented via a precise balance between temperature and pressure or by anodization.
This procedure includes dipping the item in an acidic liquid. Then, it conducts an electric current to generate an aluminum oxide coating. Therefore, the surface is more rigid, nonstick, and resistant to metal utensils.
In terms of solidity, the aluminum material of the model adds other benefits from numerous technical procedures that improve its toughness. So your aluminum-made Simply Calphalon cooking equipment will stay with you as long as possible. For a longer service life, it is advised to wash the utensils by hand and not in the dishwasher.
Cleaning
Although you can't put this cookware in the dishwasher, it's safer to hand wash it. In addition, the use of aggressive cleansers is not suggested. This will void the product's warranty.
Clean with lukewarm water and vinegar: The most excellent strategy to preserve your nonstick cookware is to clean it after each usage. You should use lukewarm water and vinegar for this purpose. When you mix hot water and vinegar, all elements like leftover cooking oil, etc., will simply leave the cookware and acquire the most excellent outcomes.
Price
When you spend money on something, you will undoubtedly want to ensure that you get the maximum value for every cent invested. When you invest in nonstick cookware, you will undoubtedly want one of the most excellent quality and can provide you the advantages for the maximum duration. Users enjoy the fact that this package comes at an unbelievable price. There are goods sold at triple the Simply price when compared to other similar models offered by Calphalon Cookware and its rivals.
Conclusion
As the Calphalon review has revealed, the Simply Nonstick 10 Piece Cookware Set will be worth its weight in gold in any kitchen setting. As related to safety and the subject of health concerns, the set doesn't transmit dangerous chemical secretions into the meal. In addition, you'll scarcely find a nonstick model that is as durable as this one. It's also not lacking in terms of ergonomics. Featuring rivet handles that are simple to grab, the knobs and handles are holdable while the rest of the body is hot. In truth, the product has no hotspots.
Also Check:
How Can You Make Hamburger Helper Without Milk?
Why is Le Creuset So Expensive? Is it Worth Buying?
The Best Method of Reheating Pizza in Air Fryer