Friday Night Recipes – Are you tired of the same old takeout options every Friday night? Say goodbye to the routine and elevate your culinary experience with our handpicked collection of 8 Friday night recipes. From savory delights to mouthwatering desserts, we've curated a diverse menu that will tantalize your taste buds and make your kitchen the new go-to spot.
These recipes are not only easy to follow but also promise a burst of flavors that take homemade meals to a whole new level. Get ready to impress your family and friends while bidding farewell to the monotonous takeout routine. Let's embark on a culinary journey that'll make you the chef of the night!
8 Friday Night Recipes That'll Make You Ditch Takeout Forever
1. Grilled Margherita Pizza: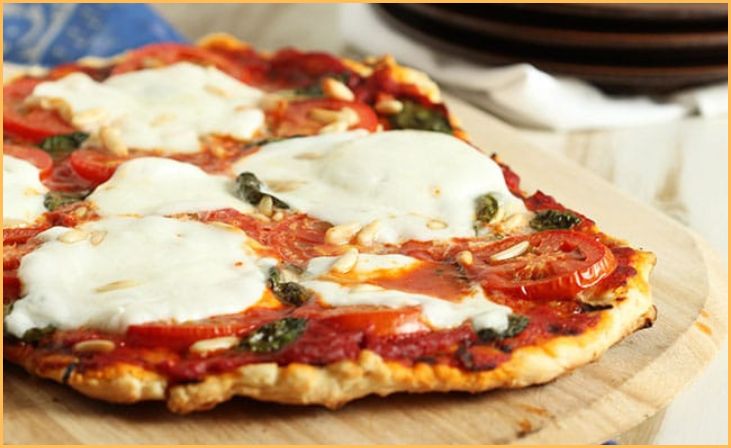 Ingredients:
Pizza dough
Tomato sauce
Fresh mozzarella
Olive oil
Fresh basil leaves
Instruction:
Indulge in the ultimate pizza night with our Grilled Margherita Pizza. First, heat your grill up to a medium-high level. Roll out your favorite pizza dough, spread a layer of rich tomato sauce, and top it with fresh mozzarella slices. Drizzle with olive oil and sprinkle with basil leaves. Carefully transfer the pizza to the grill and cook for 8-10 minutes or until the crust is golden and the cheese is bubbly. The smoky flavor from the grill adds a delightful twist to this classic recipe, making it a Friday night favorite. This is the first Friday Night Recipes from our list.
Also Read: Southern Tomato Recipes
2. Honey Garlic Glazed Salmon:
Ingredients:
Salmon fillets
Honey
Soy sauce
Minced garlic
Ginger
Instruction:
Elevate your Friday night dinner with our Honey Garlic Glazed Salmon. In a bowl, mix honey, soy sauce, minced garlic, and a dash of ginger. Place the salmon fillets in a baking dish, pour the marinade over them, and let it sit for 15 minutes. Bake at 375°F (190°C) for 20-25 minutes or until the salmon flakes easily. The sweet and savory glaze caramelizes to perfection, creating a mouthwatering dish that rivals any takeout option.
3. Veggie Stir-Fry Noodles:
Ingredients:
Noodles
Bell peppers
Broccoli
Carrots
Soy sauce
Sesame oil
Red pepper flakes
Instruction:
For a quick and colorful option, try our Veggie Stir-Fry Noodles. Follow the directions on the package to cook your favorite noodles. In a wok, sauté a mix of colorful vegetables like bell peppers, broccoli, and carrots. Add soy sauce, sesame oil, and a pinch of red pepper flakes for a kick. Toss in the cooked noodles, stir well, and serve hot. This vibrant dish is not only visually appealing but also a healthier alternative to greasy takeout noodles.
4. BBQ Chicken Skewers: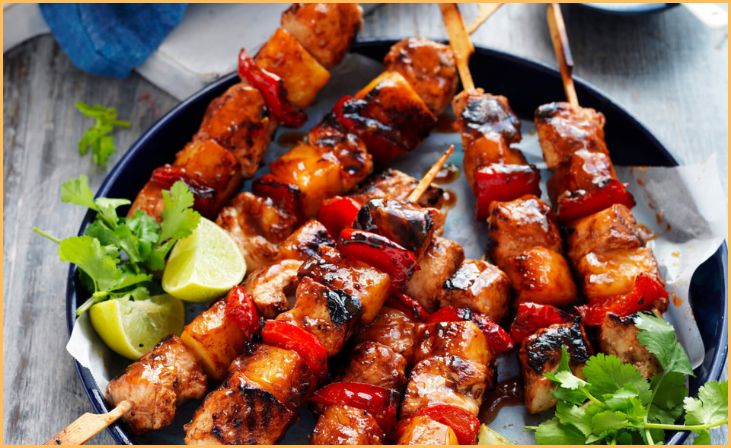 Ingredients:
Chicken breasts
BBQ sauce
Skewers
Side salad ingredients of choice
Instruction:
Fire up the grill for our BBQ Chicken Skewers that will leave you craving more. Cut chicken breasts into chunks and marinate them in your favorite BBQ sauce. Thread the marinated chicken onto skewers and grill for 12-15 minutes, turning occasionally. The result? Tender, juicy, and flavorful chicken skewers that beat any takeout option. Pair them with a refreshing side salad for a well-rounded Friday night feast.
Also Read: Delicious Summer Zucchini Recipes
5. Caprese Salad with Balsamic Glaze:
Ingredients:
Tomatoes
Fresh mozzarella
Basil leaves
Balsamic glaze
Salt and pepper
Instruction:
For a lighter option, savor the freshness of our Caprese Salad with Balsamic Glaze. Arrange sliced tomatoes, fresh mozzarella, and basil leaves on a platter. Put the balsamic glaze on top and then add salt and pepper. The simplicity of this dish allows the quality of the ingredients to shine through, making it a perfect accompaniment to any main course or a standalone Friday night delight.
6. Teriyaki Beef Stir-Fry:
Ingredients:
Beef slices
Mixed vegetables
Soy sauce
Ginger
Garlic
Brown sugar
Steamed rice
Instruction:
Transport your taste buds to Asia with our Teriyaki Beef Stir-Fry. Slice beef thinly and stir-fry in a wok with a medley of colorful vegetables. In a bowl, mix soy sauce, ginger, garlic, and brown sugar to create the teriyaki sauce. Pour the sauce over the stir-fry and toss until everything is well-coated. Serve over steamed rice for a satisfying Friday night meal that's bursting with flavor.
7. Chocolate Lava Cakes:
Ingredients:
Dark chocolate
Butter
Sugar
Eggs
Flour
Salt
Vanilla ice cream
Instruction:
Indulge your sweet tooth with our decadent Chocolate Lava Cakes. In a bowl, melt dark chocolate and butter together. Add sugar, eggs, flour, and a pinch of salt, and mix until smooth. Pour the batter into greased ramekins and bake at 425°F (220°C) for 12-15 minutes. The result is a gooey, molten center surrounded by a perfectly baked exterior. Top with a scoop of vanilla ice cream for the ultimate Friday night dessert.
8. Mediterranean Stuffed Peppers: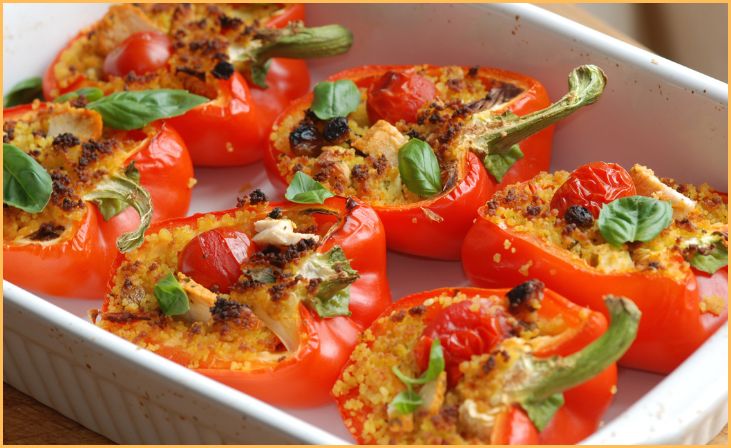 Ingredients:
Ground lamb or beef
Quinoa
Diced tomatoes
Olives
Feta cheese
Instruction:
Explore the flavors of the Mediterranean with our Stuffed Peppers. Mix ground lamb or beef with cooked quinoa, diced tomatoes, olives, and feta cheese. Cut bell peppers in half, remove the seeds, and stuff them with the mixture. Bake at 375°F (190°C) for 25-30 minutes. The result is a colorful and savory dish that brings the taste of the Mediterranean to your Friday night table.
Also Read: Easy Recipes for Chicken Breasts
These 8 Friday night recipes are sure to make you ditch takeout forever. Whether you're in the mood for a classic Margherita Pizza or craving the exotic flavors of Teriyaki Beef Stir-Fry, these homemade dishes are easy to prepare and packed with deliciousness. Elevate your Friday nights with these culinary delights, and enjoy the satisfaction of creating restaurant-quality meals in the comfort of your own kitchen.
Conclusion
Ready to bid farewell to uninspiring takeout? With our 8 Friday night recipes, you'll discover a world of culinary delights that make staying in the new dining out. From cozy gatherings to solo nights, these dishes offer a tasty escape from the ordinary.
Embrace the joy of cooking and relish the satisfaction of crafting your own delectable meals. Say goodbye to takeout, and let your kitchen become the heart of Friday night festivities. Elevate your dining experience, savor the flavors, and make every Friday a celebration of homemade goodness!
FAQs
Not at all! Our recipes are made to be easy to follow without sacrificing taste. Most dishes take around 30-45 minutes, ensuring a quick and delicious Friday night feast.
Absolutely! Each recipe comes with suggested modifications, making it easy to adapt to various dietary needs. Whether you're vegetarian, vegan, or have specific allergies, these recipes are flexible enough to accommodate your preferences.