The post provides a brief knowledge about how to cut an apple and gives you a delicious recipe for apple pie. An apple a day keeps the doctor away! This old saying we heard when we were children. And yes! That is a true statement. Apples are incredibly healthy and should be consumed every day. But do you also feel a bit irritated while cutting it or having its seeds in your mouth? Yes, but if you cut the fruit properly, it is tastier, healthier, and the perfect addition to your breakfast or snack! A brief overview of How to cut an apple is presented in this article and a few health benefits of this fruit.
How to Peel Apples?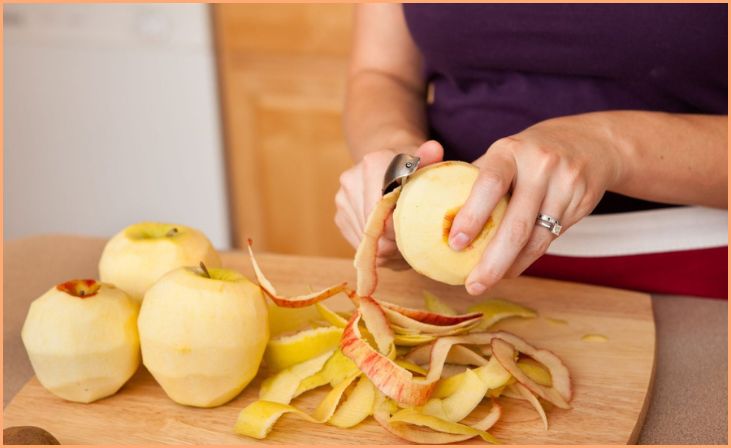 Get a plate to hold the apple peels and a very blunt knife.
Peel the apple around the stem first.
Continue peeling until you reach the ends. Continue peeling the apple until the apple is fully peeled.
Be sure to remove the apple peels under the apple as well.
The apple is now perfectly peeled and ready to be cut.
How to Core an Apple?
If you wish to hollow out or cor an apple, you can use various tools, depending on what you possess. Below are three easy ways to do so.
Use an apple corer
Apple Peeler and Corer for Thanksgiving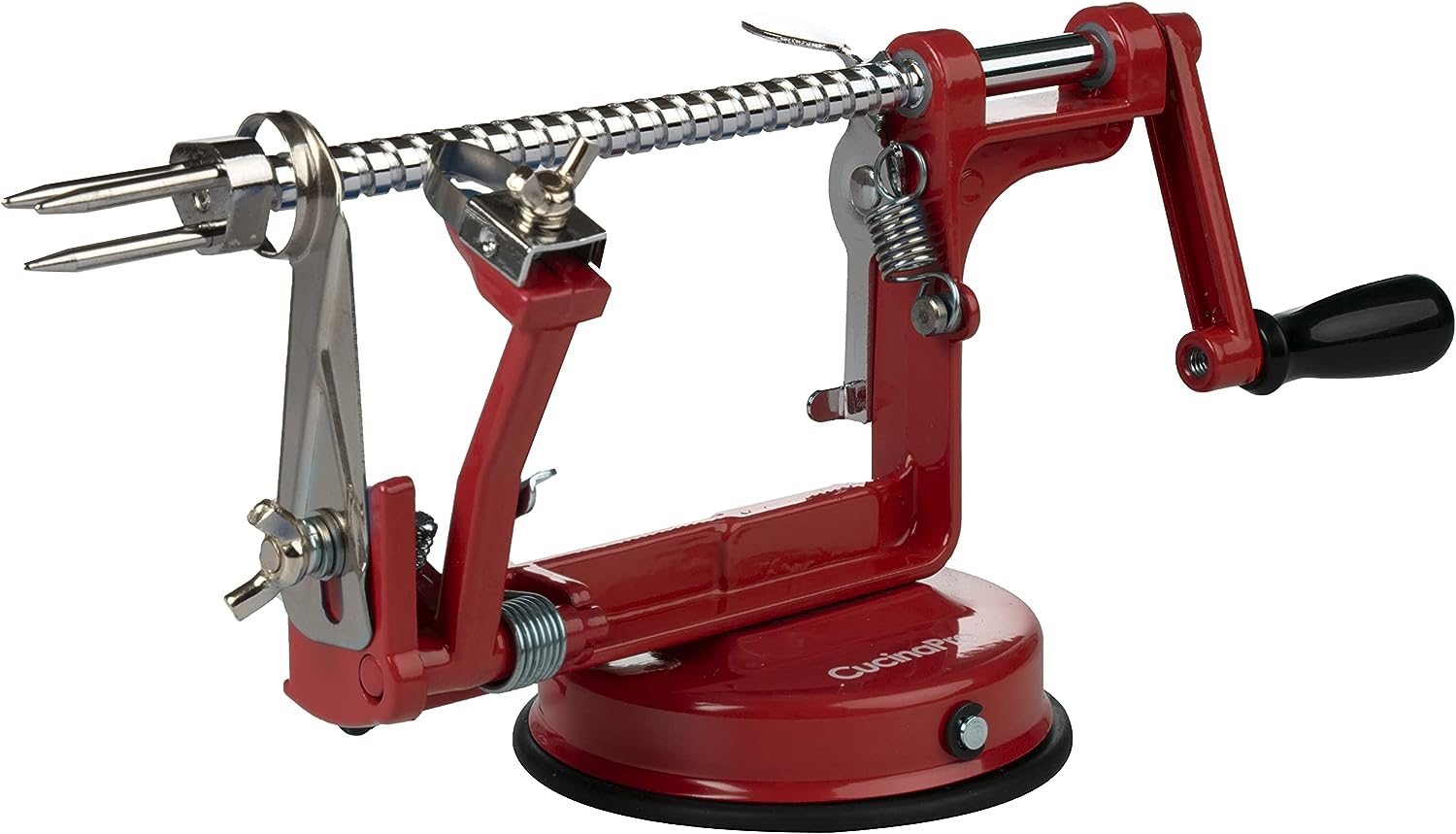 Brand CucinaPro
Color Red
Special Feature Heavy Duty
Product Dimensions 12″L x 5.25″W
Handle Material Cast Iron
This tool is solely intended for coring apples. Remove the center of your apple by forcing it through, twisting, and lifting it back out.
Use a melon baller
Melon Baller Scoop Set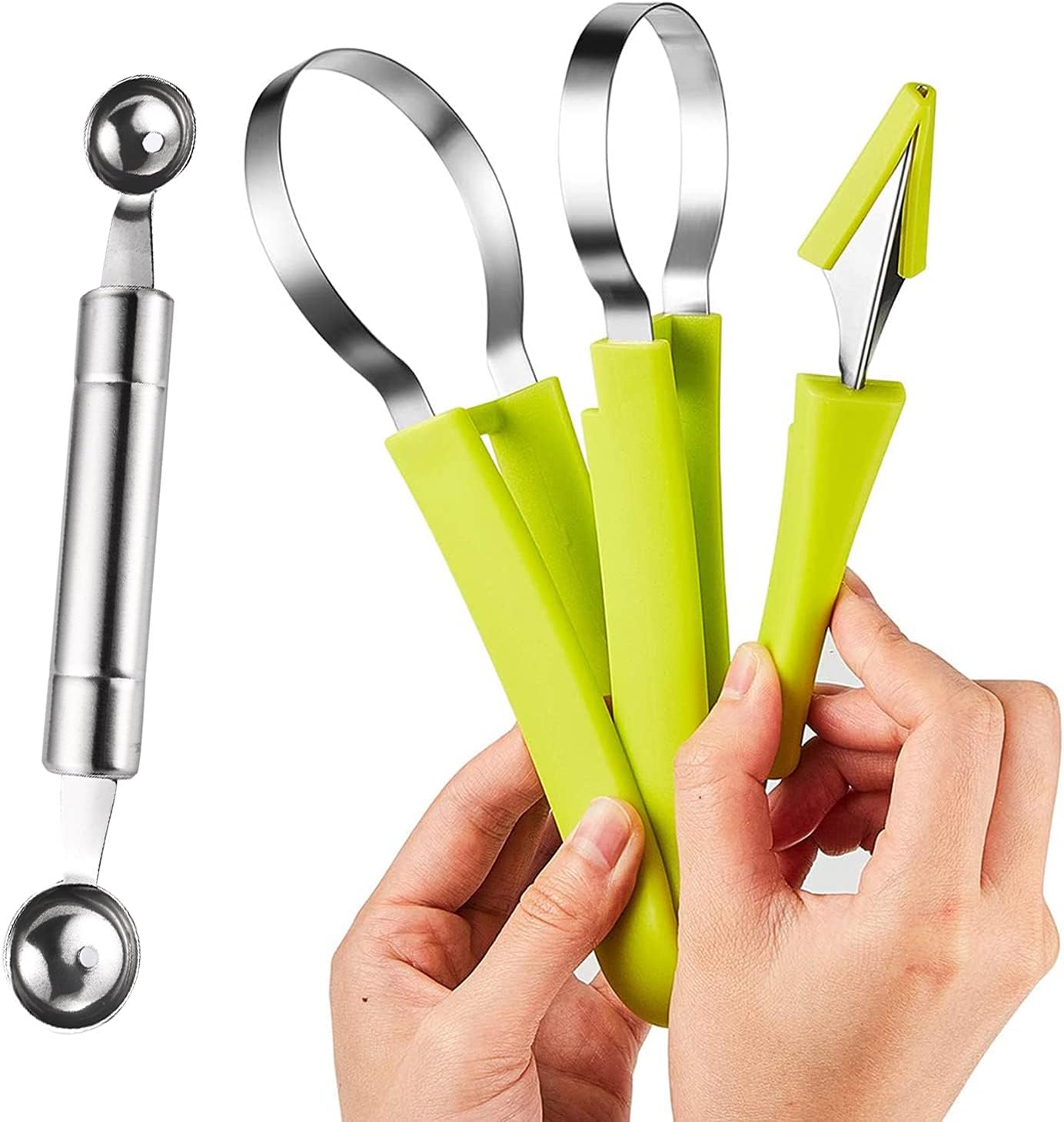 Stackable Design
Food-grade Material
Reliable material
Elegant & Interesting
After cutting the apple in half, use a melon baller to remove the seeds and create a hollow center.
Use a paring knife
PAUDIN Paring Knife 3.5 Inch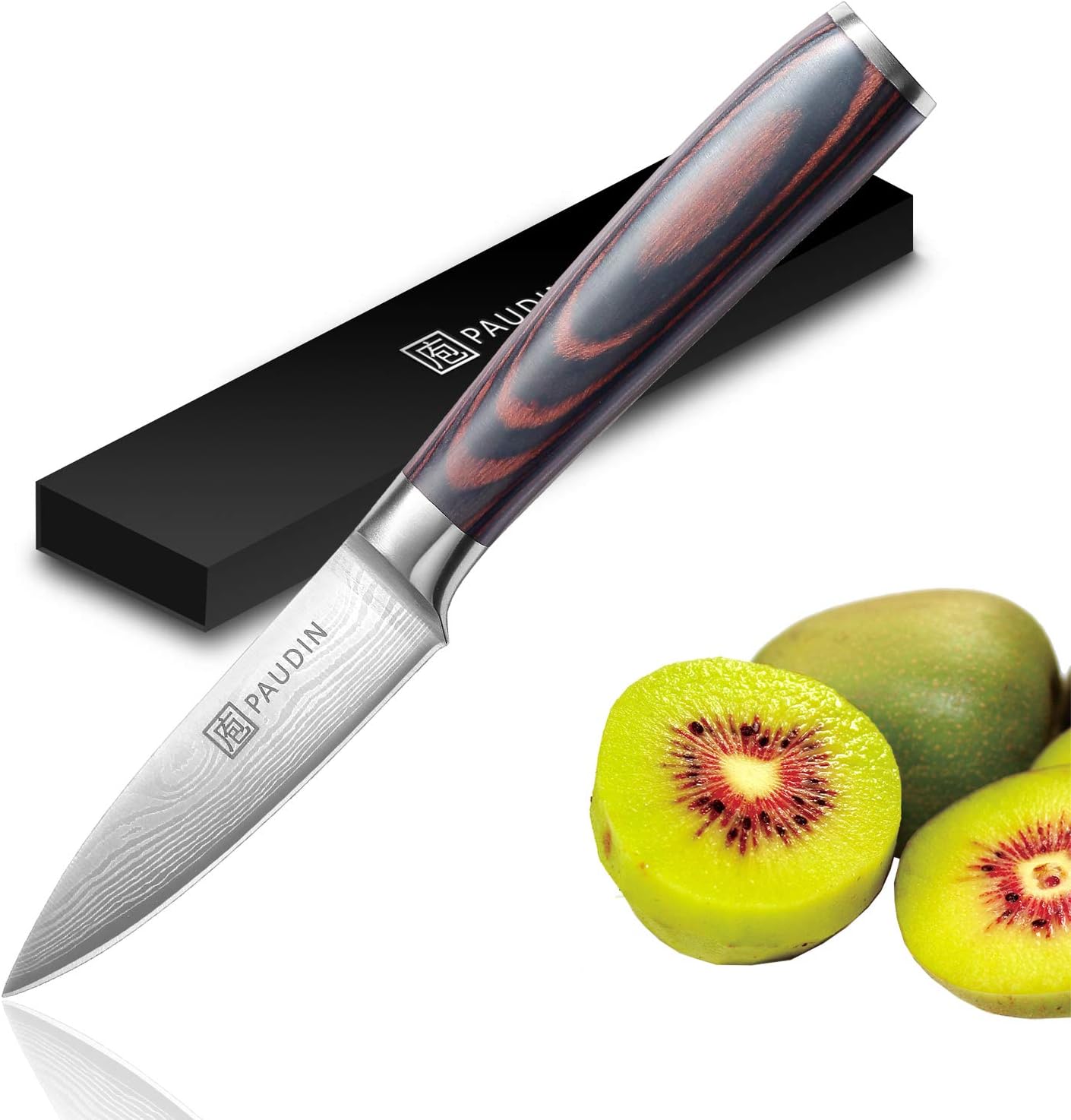 Blade Material High Carbon Stainless Steel
Brand PAUDIN
Color Silver
Handle Material Stainless Steel
Blade Edge Plain
You can hollow out an apple with a paring knife or slice and quarter the apple and use the knife to scoop out the center.
For More- What Does Dragon Fruit Taste Like?- Complete Package Of Vitamins and Minerals!
How to Cut an Apple into Slices?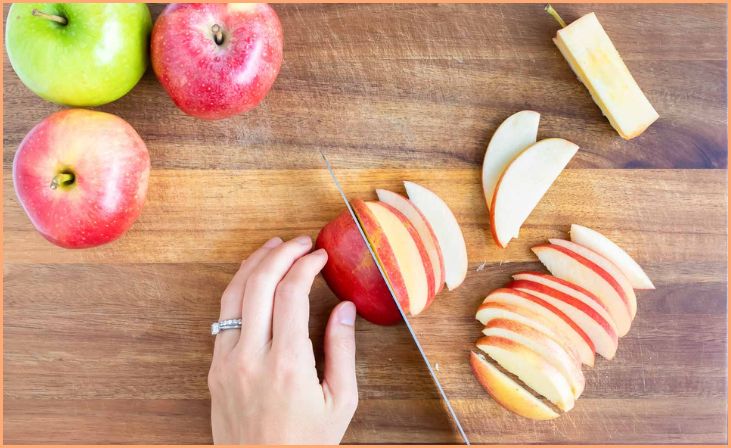 There are various ways to cut an apple into slices. Given below are the following ways:
Sliced Apples: Slicing apples is a simple process. First, cut the fruit in half from stem to bottom after removing the stem. Next, take one half and slice it into pieces that are 2-inches wide at their widest point. Enjoy these sliced apples by themselves or with your favorite dips. Peanut butter, nut butter, and melted cheese are some favorites!
Thinly Sliced Apples: Slice an apple thin by removing the stem and cutting it half from top to bottom. Then, slice one half as thin as you can. You can also cut the apple in half again to have less fruit to work with if you have a sharp knife.
Apple Chips: Unlike an apple ring, an apple chip does not have a hole in the middle. You can use these to bake or dehydrate apple chips, as well as to make apple sandwiches. For apple rings, follow the instructions above, but don't bother removing the seed pockets. The seeds will fall out when you eat the apple, and the star-shaped center is OK to eat!
Diced Apples
Besides being great in salads, salsa, and apple desserts, diced apples also make great toppings for salads. Remove the stem from the fruit, and cut it in half from top to bottom. Cut the apple into slices. Stack the slices and turn them over. Make two slices, one the length of the slice and one the width of the slice, and cut into cubes. And there you have it! Apple dice! You can use diced apples in salads, salsas, and apple desserts! Cut the fruit in half from top to bottom after removing the stem. Cut the apple into slices. Place the slices in a stack and turn them over. Make two slices, one the length of the slice and one the width. You now have diced apples!
Apple Pie Recipe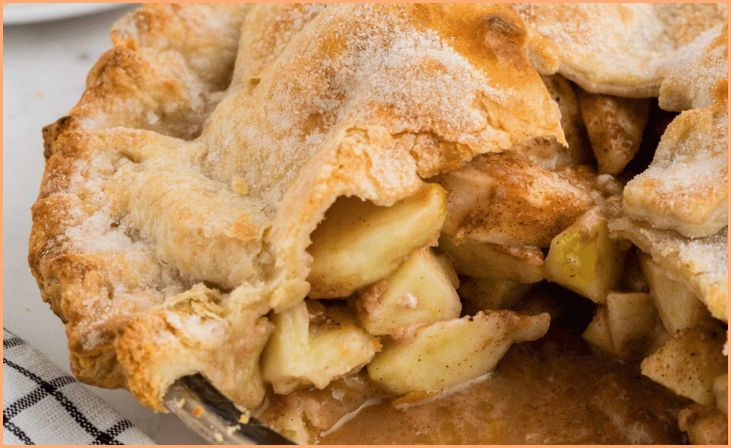 Ingredients:
For the Pie Crust:
2 1/2 cups all-purpose flour
1 cup unsalted butter, cold and cubed
1/4 cup granulated sugar
1/2 teaspoon salt
1/4 to 1/2 cup ice water
For the Apple Filling:
6-7 cups peeled, cored, and thinly sliced apples (mix of Granny Smith and Honeycrisp)
1/2 cup granulated sugar
1/2 cup packed light brown sugar
1 tablespoon lemon juice
1 teaspoon ground cinnamon
1/4 teaspoon ground nutmeg
2 tablespoons all-purpose flour
For Assembly:
1 tablespoon unsalted butter, cut into small pieces
1 egg (for egg wash)
1 tablespoon granulated sugar (for sprinkling)
Instructions:
1. Prepare the Pie Crust: a. In a food processor, combine flour, sugar, and salt. b. Add cold butter and pulse until the mixture resembles coarse crumbs. c. Gradually add ice water, 1 tablespoon at a time, and pulse until the dough comes together. d. Divide the dough into two discs, wrap in plastic wrap, and refrigerate for at least 1 hour.
2. Preheat the Oven: Preheat your oven to 375°F (190°C).
3. Prepare the Apple Filling: a. In a large bowl, toss sliced apples with lemon juice. b. In a separate bowl, mix granulated sugar, brown sugar, cinnamon, nutmeg, and flour. c. Add the sugar mixture to the apples and toss until evenly coated.
4. Roll Out the Pie Crust: Roll out one disc of the chilled pie crust on a floured surface to fit a 9-inch pie dish. Place it in the dish and trim the excess.
5. Add the Apple Filling: Spoon the apple filling into the crust, mounding it slightly in the center. Dot with small pieces of butter.
6. Roll Out the Top Crust: Roll out the second disc of pie crust and place it over the apples. Trim and crimp the edges to seal the pie.
7. Make Slits and Brush with Egg Wash: Cut slits in the top crust to allow steam to escape. Beat the egg and brush it over the crust. Sprinkle with granulated sugar.
8. Bake: Place the pie on a baking sheet and bake for 45-55 minutes or until the crust is golden brown and the filling is bubbly.
9. Cool and Serve: Allow the pie to cool on a wire rack for at least 2 hours before slicing. Serve with a scoop of vanilla ice cream if desired.
Also Read- How Long Does Tofu Last in the Fridge? – Does It Turn Out To Be Bad?
Conclusion
Mastering the art of cutting an apple not only enhances your culinary skills but also makes this wholesome fruit more enjoyable. From peeling off the skin to creating uniform slices, the process becomes a blend of precision and simplicity. Whether you're preparing a snack, baking a pie, or crafting a fruit salad, understanding the various cutting techniques opens up a world of culinary possibilities. Armed with the knowledge of efficient apple cutting, you can now savor the natural sweetness and crisp texture of apples in every bite. So, grab your favorite variety of apple and let your knife skills shine as you effortlessly transform this timeless fruit into delectable, ready-to-enjoy pieces.
FAQs
Whether to peel apples depends on personal preference and the recipe. Peeling removes the skin's texture but also eliminates potential pesticides. For snacks or pie fillings, peeling is common; for salads or added fiber, leave the skin on.
To prevent apple slices from browning, you can dip them in a mixture of water and lemon juice. Alternatively, store sliced apples in an airtight container with a bit of lemon juice or an acidic solution.
Using an apple corer is the easiest way to remove the core. Alternatively, you can slice the apple on either side of the core or use a paring knife to cut around the core in a circular motion.