Summer is a season that beckons with a symphony of vibrant flavors, and amidst this gastronomic orchestra, few things capture the essence as splendidly as fresh peach recipes. These juicy, sun-kissed gems not only tantalize the taste buds but also embody the very spirit of the season. So, let's embark on a culinary adventure, immersing ourselves in a world of delightful flavors and exploring ten exquisite recipes that are set to elevate your summer dining experience to new heights.
Picture this: the warm sun casting a golden glow, a gentle breeze carrying the sweet fragrance of ripe peaches, and your kitchen becoming a haven for creativity. It's within this backdrop that we invite you to dive into the world of culinary delights. These aren't just recipes; they're a celebration of summer, a tribute to the bounty that nature bestows upon us during this time.
Each recipe is a masterpiece, carefully curated to showcase the versatility of fresh peaches. From classic desserts like Peach Cobbler Delight to savory wonders like Peach Glazed Chicken, we've curated a collection that spans the entire spectrum of culinary experiences. These aren't just dishes; they're moments, encapsulating the pure joy of savoring the finest produce the season has to offer.
10 Fresh Peach Recipes To Savor All Summer
Peach Cobbler Delight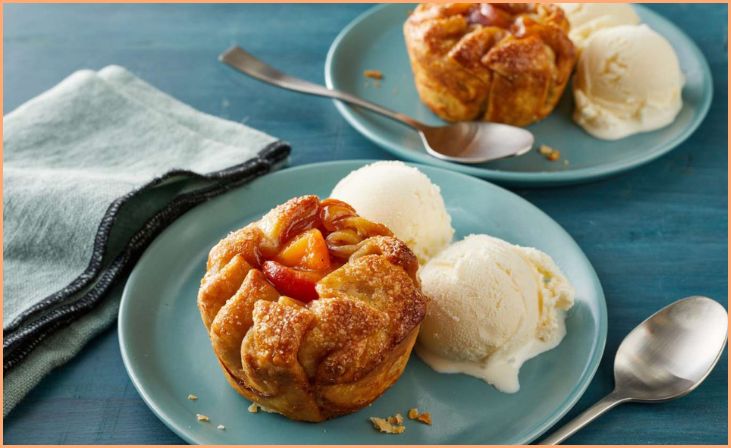 Indulge in the classic comfort of Peach Cobbler, a dessert where the luscious sweetness of juicy peaches harmonizes with a golden, buttery crust. To create this timeless crowd-pleaser for your summer gathering, gather the following ingredients:
Ingredients:
4 cups of fresh, ripe peaches, peeled and sliced
1 cup of granulated sugar
1/2 cup of unsalted butter
1 cup of all-purpose flour
2 teaspoons of baking powder
A pinch of salt
1 cup of milk
Ground cinnamon (for sprinkling)
Instructions:
Preheat your oven to 375°F (190°C).
Melt the butter over medium-low heat in a pot. Add the peaches that have been cut up and stir in 1/2 cup of sugar until the sugar is gone and the peaches are covered. Put away.
In a mixing bowl, combine the flour, remaining sugar, baking powder, and salt.
Slowly add the milk to the dry ingredients, stirring until a smooth batter forms.
In a serving dish, melt the butter and pour the batter over it. Spread out the peach mixture on top of the batter.
Add some ground cinnamon on top to make it taste even better.
Bake for 40-45 minutes or until the crust is golden brown and the peaches are bubbly.
Allow it to cool slightly before serving. Serve warm, and enjoy the delightful blend of textures and flavors.
Also Read:- Italian Nonna Recipes
Grilled Peach Salad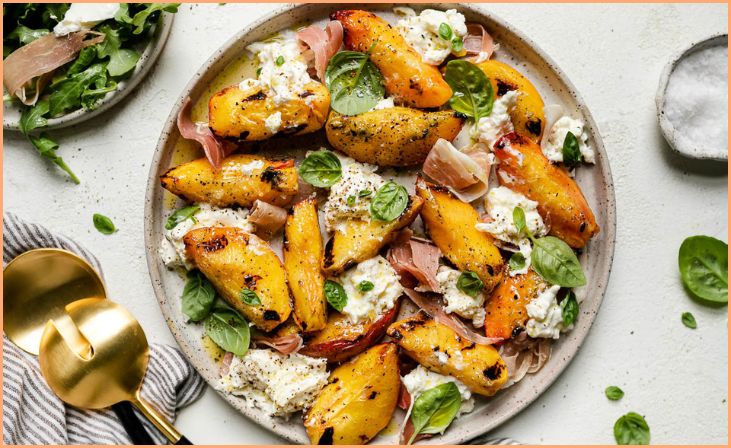 Elevate your salad game with the Grilled Peach Salad, a refreshing and perfectly balanced dish that combines savory and sweet elements. Here's how to create this culinary masterpiece:
Ingredients:
4 ripe peaches, halved and pitted
8 cups of mixed salad greens
1 cup of cherry tomatoes, halved
1/2 cup of feta cheese, crumbled
1/4 cup of balsamic glaze
Olive oil for brushing
Salt and pepper to taste
Instructions:
Preheat your grill to medium-high heat.
Add a pinch of salt and brush the peach halves with olive oil.
The peaches should be cooked on the grill for two to three minutes on each side, or until grill marks show up.
In a large bowl, combine the mixed greens, grilled peaches, cherry tomatoes, and feta cheese.
Drizzle balsamic glaze over the salad and toss gently to combine.
Season with salt and pepper to taste.
Serve immediately and relish the perfect harmony of smoky sweetness and fresh crispness.
Peach and Basil Smoothie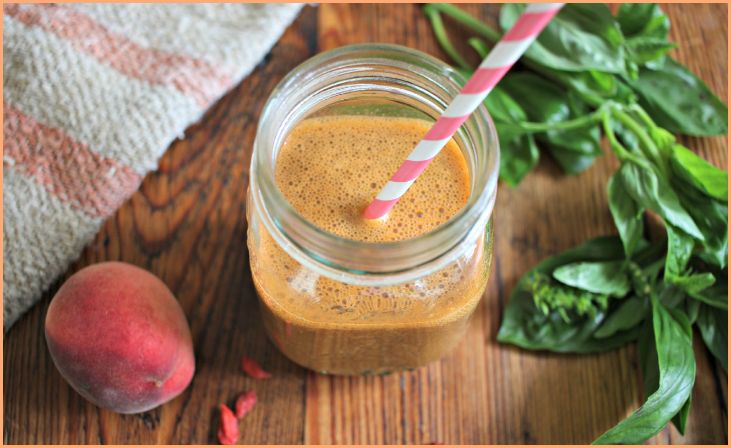 Start your day with a burst of freshness by blending up this Peach and Basil Smoothie. Packed with flavor and nutrition, this smoothie is a delightful way to kickstart your morning.
Ingredients:
2 ripe peaches, pitted and sliced
1/2 cup fresh basil leaves
1 cup plain yogurt
1 tablespoon honey
1/2 cup ice cubes
Instructions:
In a blender, combine the sliced peaches, basil leaves, yogurt, honey, and ice cubes.
Blend until smooth and creamy.
Pour into a glass, garnish with a basil leaf if desired, and enjoy the refreshing burst of peach and basil flavors.
Peach Glazed Chicken
Transform your grilled chicken into a masterpiece with a Peachy Glaze that adds a sweet and tangy twist. Elevate your summer barbecues with this standout dish:
Ingredients:
4 boneless, skinless chicken breasts
Salt and black pepper to taste
2 tablespoons olive oil
1 cup peach preserves
2 tablespoons Dijon mustard
2 cloves garlic, minced
1 tablespoon soy sauce
1 teaspoon red pepper flakes (optional)
Instructions:
Preheat your grill to medium-high heat.
Season the chicken breasts with salt and pepper.
In a small saucepan, heat olive oil over medium heat. Add minced garlic and sauté until fragrant.
Stir in peach preserves, Dijon mustard, soy sauce, and red pepper flakes (if using). Simmer for 5-7 minutes, or until the glaze thickens.
Grill the chicken breasts for 6-8 minutes on each side or until fully cooked.
Brush the peach glaze over the chicken during the last few minutes of grilling.
Serve the chicken hot off the grill, generously drizzled with the peach glaze.
Peach Sorbet Bliss
Cool off with a delightful Peach Sorbet, a refreshing treat capturing the essence of ripe peaches in every spoonful. Here's how to make this easy-to-love summer dessert:
Ingredients:
6 ripe peaches, peeled, pitted, and sliced
1/2 cup sugar
1 tablespoon lemon juice
1/2 cup water
Instructions:
In a blender, combine the sliced peaches, sugar, lemon juice, and water.
Blend until smooth.
Pour the mixture into a shallow dish and freeze for 4-6 hours, stirring every hour with a fork to break up ice crystals.
Once frozen, scoop into bowls or cones, and indulge in the cool, refreshing taste of homemade Peach Sorbet.
Peach Caprese Skewers
Give the classic Caprese salad a fruity twist with Peach Caprese Skewers, a delightful appetizer that combines the richness of mozzarella with the sweetness of peaches:
Ingredients:
Fresh mozzarella balls
Ripe peaches, cut into wedges
Fresh basil leaves
Balsamic glaze for drizzling
Salt and black pepper to taste
Instructions:
Thread a mozzarella ball, a basil leaf, and a peach wedge onto small skewers or toothpicks.
Arrange the skewers on a serving platter.
Put the balsamic glaze on top and then add salt and black pepper.
Serve immediately, delighting in the burst of flavors with each bite.
Peach and Prosciutto Bruschetta
Impress your guests with a sophisticated appetizer – Peach and Prosciutto Bruschetta. The combination of sweet peaches, salty prosciutto, and crusty bread creates a bruschetta that's bursting with flavor:
Ingredients:
Baguette slices, toasted
Ripe peaches, sliced
Prosciutto slices
Goat cheese
Honey for drizzling
Fresh basil leaves
Instructions:
Spread goat cheese on toasted baguette slices.
Top each slice with a slice of prosciutto and a few peach slices.
Put some honey on top and add some fresh basil leaves on top.
Serve immediately and let the contrasting flavors dance on your palate.
Peach BBQ Sauce for Grilling
Upgrade your grilling game with a homemade Peach BBQ Sauce that adds a delectable touch to your favorite grilled meats. This tangy and sweet sauce will elevate your barbecue experience:
Ingredients:
2 cups fresh peaches, peeled and chopped
1/2 cup ketchup
1/4 cup brown sugar
1/4 cup apple cider vinegar
2 tablespoons Dijon mustard
1 tablespoon Worcestershire sauce
1 teaspoon smoked paprika
1/2 teaspoon garlic powder
Instructions:
In a saucepan, combine chopped peaches, ketchup, brown sugar, apple cider vinegar, Dijon mustard, Worcestershire sauce, smoked paprika, and garlic powder.
Over medium heat, bring the mixture to a boil. Then, lower the heat to a simmer.
While stirring every now and then, cook for 15 to 20 minutes, or until the peaches break down and the sauce gets thicker.
Using an immersion blender, mix the sauce until it is smooth. You can also put it in a blender and blend it until it's smooth, then put it back in the pot.
Season with salt and black pepper to taste.
Allow the sauce to cool before using it to baste your favorite meats on the grill.
Peach and Mint Iced Tea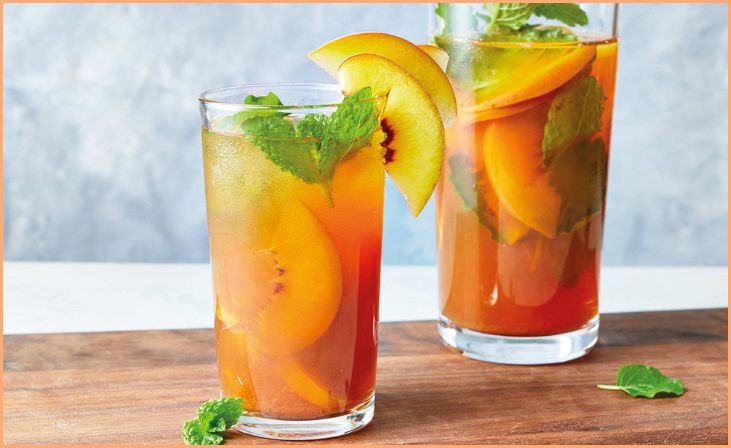 Quench your thirst with a refreshing Peach and Mint Iced Tea, a beverage that strikes a perfect balance between sweetness and herbal notes:
Ingredients:
4 cups brewed black tea, chilled
2 ripe peaches, pitted and sliced
Fresh mint leaves
1/4 cup honey or simple syrup (adjust to taste)
Ice cubes
Instructions:
In a large pitcher, combine the chilled black tea, sliced peaches, and fresh mint leaves.
Stir in honey or simple syrup, adjusting the sweetness to your liking.
Put it in the fridge for at least two hours to let the flavors mix.
Serve over ice and garnish with additional peach slices and mint leaves.
Enjoy the cool, sweet, and herbal infusion of Peach and Mint Iced Tea.
Peach and Blueberry Galette
Wrap up your culinary journey with a Peach and Blueberry Galette, a dessert that's both rustic and indulgent. The combination of flaky pastry, sweet peaches, and juicy blueberries creates a delightful finale:
Ingredients:
1 store-bought or homemade pie crust
3 ripe peaches, peeled and sliced
1 cup fresh blueberries
1/4 cup granulated sugar
1 tablespoon cornstarch
Zest of one lemon
1 egg (for egg wash)
Turbinado sugar (for sprinkling)
Also Read:- Potato Salad Recipes
Instructions:
Preheat your oven to 375°F (190°C).
Roll out the pie crust on a parchment-lined baking sheet.
In a bowl, gently toss the sliced peaches, blueberries, sugar, cornstarch, and lemon zest.
Pile the fruit mixture onto the center of the pie crust, leaving a border around the edges.
Fold the edges of the crust over the fruit, creating a rustic galette shape.
Beat the egg and brush it over the crust. Sprinkle with turbinado sugar.
Bake for 30-35 minutes or until the crust is golden brown and the filling is bubbling.
Allow the galette to cool slightly before slicing. Serve warm and savor the delicious blend of peach and blueberry goodness.
Conclusion
In conclusion, the joy of savoring fresh peach recipes in the summer is unparalleled. From desserts to savory delights, peaches offer a versatile canvas for culinary creativity. Embrace the season with these recipes, and let the sweet taste of summer linger on your palate.
FAQs
Absolutely! Whether it's a casual family dinner or a festive celebration, peach recipes add a touch of sweetness to any occasion.
While fresh is preferred, you can use frozen peaches in most recipes with slight adjustments. Ensure they're thawed and well-drained before use.