Making delicious crepes at home just got easier with the Le Creuset Crepe Pan. As a key tool in the art of making thin, delicate French-style pancakes, this pan boasts a perfectly flat surface, low sides, and excellent heat control to help you create the perfect crepes every time.
To determine its effectiveness, we put the Le Creuset Crepe Pan to the test in our kitchen, evaluating its design and performance. In this review, we share our thoughts on this must-have tool for crepe lovers.
So, whether you're a seasoned crepe maker or starting out, consider the Le Creuset Crepe Pan for your kitchen.
What is Crepe Pan?
A Crepe Pan is a type of cooking pan specifically designed for making crepes. Crepes are thin and delicate French-style pancakes that are typically served with sweet or savory fillings. Crepe pans have a flat surface, low sides, and good heat control to help create perfectly thin and round crepes.
Best Le Creuset Crepe Pan
Le Creuset Enameled Cast Iron Crepe Pan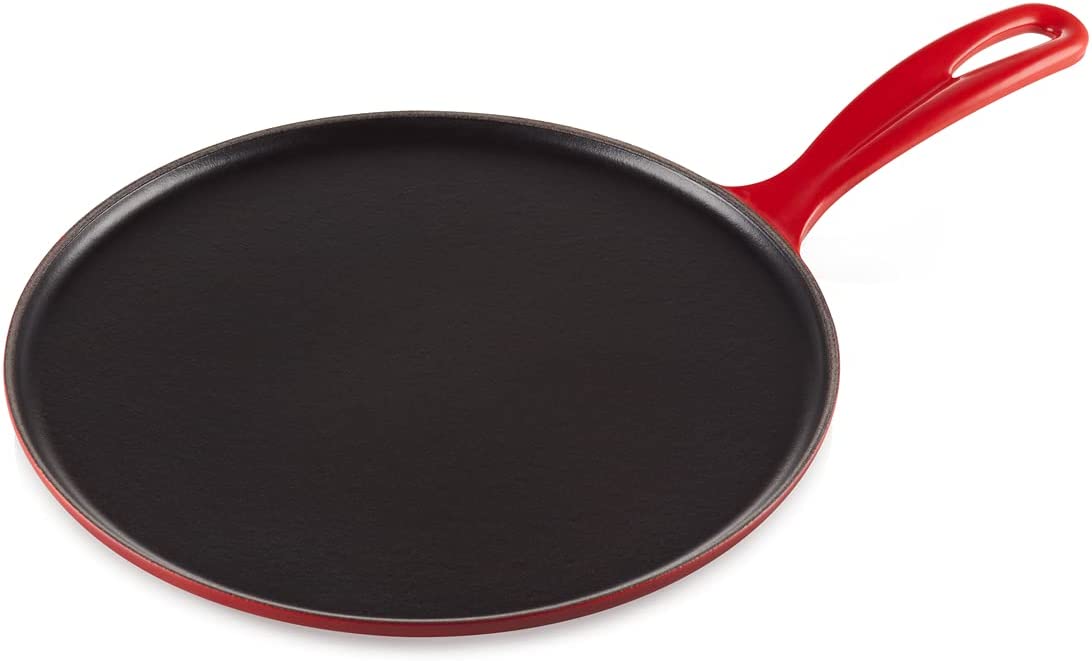 Brand – Le Creuset
Material – Cast Iron
Special Feature – Induction Stovetop Compatible
Color – Cerise
Capacity – 2.5 Liters
The Le Creuset Cast Iron Crepe Pan is designed for making traditional crepes and much more. With its low-profile and gently sloping sides, it's easy to flip delicate foods like pancakes, hash browns, and fritters.
The smooth black satin enamel finish requires no seasoning and ensures even heat distribution, while the circular cooking surface helps the batter spread thinly.
The pan comes with an 8-inch rateau for spreading batter and a narrow spatula for flipping. Crafted from premium cast iron, it boasts exceptional heat distribution and retention qualities without any hot spots.
The durable enamel surface minimizes sticking and staining, is easy to clean, and resists chipping and cracking. The ergonomic handle is angled for a comfortable grip and easy lifting, and this cast iron pan is the lightest by quart on the market. It's compatible with all cooktops and oven-safe up to 500°F.
Le Creuset Toughened Nonstick PRO Crepe Pan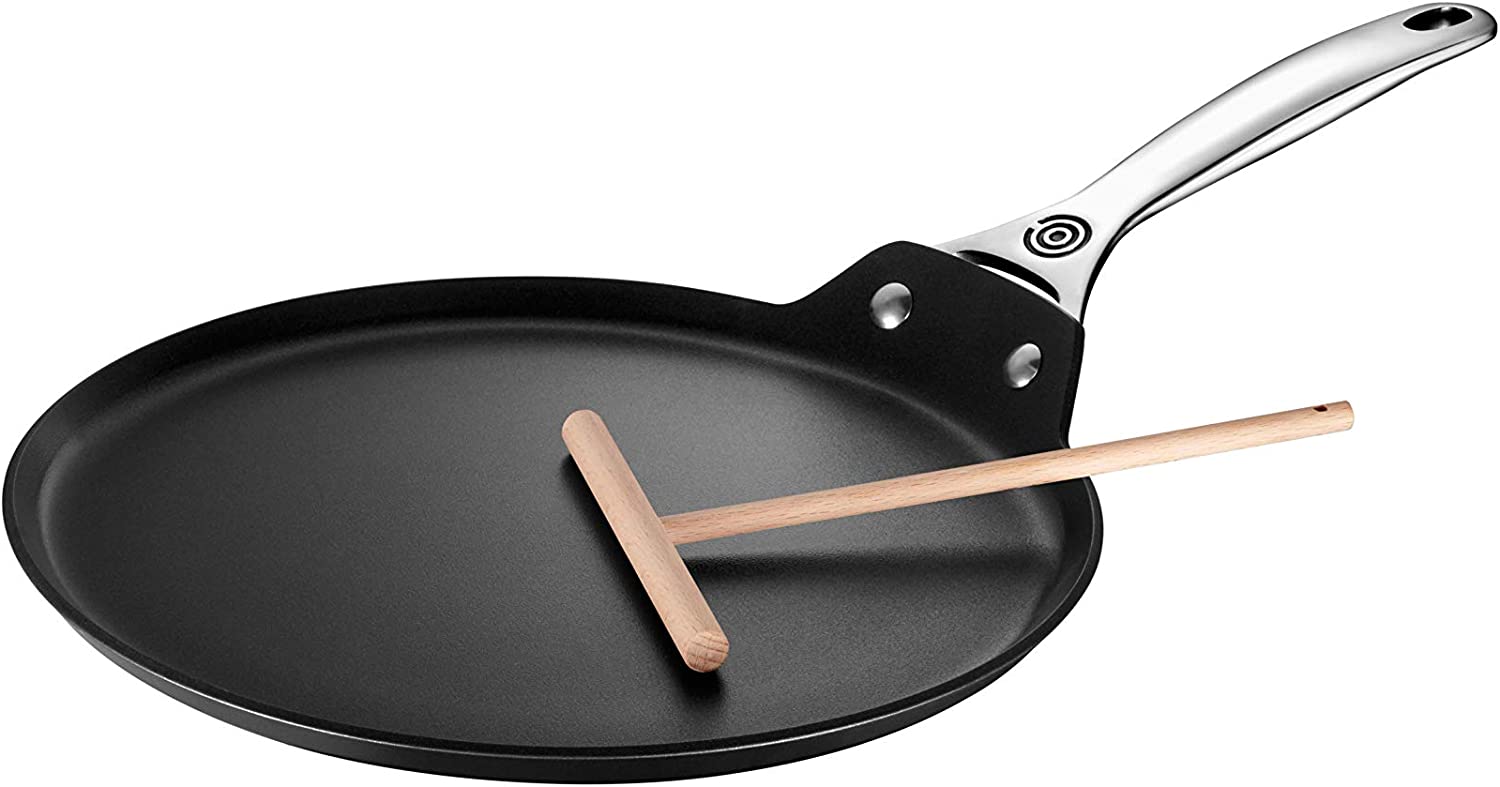 Brand – Le Creuset
Material – Forged Hard Anodized
Special Feature – All Stovetop Compatible
Color – Gray
Capacity – 4 Quarts
The Le Creuset Toughened Nonstick line is a top choice for those who desire both exceptional cooking results and effortless ease of use.
Crafted to Le Creuset's legendary standards, each versatile pan features a durable triple-reinforced coating that easily wipes clean. Whether you are cooking on the stove, in the oven, or at the table, this nonstick line is ideal for making flavorful meals.
The textured interior enhances browning and searing, while the ergonomic handles stay cool to the touch for comfortable handling. The Toughened Nonstick line is compatible with all cooktops and oven-safe up to 500°F (with tempered glass lids up to 425°F) and can be safely cleaned in the dishwasher or with metal utensils.
Buying Guide for Crepe Pan
When looking to buy a crepe pan, consider the following factors:
Material:
Crepe pans are typically made of cast iron, stainless steel, aluminum, or nonstick materials. Each material has its own unique properties, including heat distribution and durability.
Surface:
The surface of the pan can greatly impact the quality of your crepes. Look for a smooth and even surface for easy spreading of batter and a low profile for easy flipping.
Size:
Crepe pans come in various sizes, from small pans for personal use to larger ones for entertaining. Consider the size of your kitchen and the number of crepes you want to make at one time.
Handle:
Choose a pan with a comfortable and ergonomically designed handle that stays cool and is easy to grip.
Heat Control:
Look for a pan with excellent heat control for even heating and cooking. Consider the material and the thickness of the pan.
Cleaning:
Consider a pan that is easy to clean, either by hand or in the dishwasher.
Compatibility:
Ensure the crepe pan is compatible with your cooktop and oven.
Price:
Crepe pans can vary in price, so consider your budget and the features you want in a pan before making a purchase.
By taking these factors into consideration, you can find the perfect crepe pan for your kitchen and make restaurant-quality crepes at home.
Are crepe pans worth it?
Yes, crepe pans can be worth it if you enjoy making crepes or similar foods that require a flat cooking surface and low sides. Crepe pans are designed specifically for making crepes and offer several benefits compared to standard skillets, such as a perfectly flat surface, low sides for easy flipping, and excellent heat control. Additionally, crepe pans can also be used for cooking other dishes, making them a versatile addition to any kitchen.
Do you need to oil a crepe pan?
It depends on the material of the crepe pan. For nonstick crepe pans, it is generally not necessary to oil the pan, as the nonstick coating prevents the crepe batter from sticking to the surface. However, for cast iron crepe pans, it may be necessary to lightly oil the surface before cooking to prevent sticking.
Should crepes be crispy or soft?
Crepes should be thin, soft, and pliable, not crispy. The ideal crepe should have a delicate and tender texture with a slightly crisp exterior.
What is the difference between crepe and pancake pan?
Crepe pans and pancake pans differ in the type of cooking surface and sides they have. Crepe pans have a flat and smooth surface with low sloping sides to make it easy to spread batter thinly and flip the crepes.
Pancake pans, on the other hand, have a textured surface with slightly raised edges that help the pancakes cook evenly and trap heat.
Crepes are thin, delicate, and French-style pancakes, while pancakes are thick, fluffy, and American-style pancakes. Hence, the difference in the design of the pans is to cater to the specific cooking needs of crepes and pancakes.
What pan is best for Crepes?
A crepe pan is best for making crepes. Crepe pans have a flat and smooth surface, low sides, and excellent heat control, all designed to help you make the perfect thin and round crepes.
Some popular materials for crepe pans are nonstick, cast iron, and aluminum. The choice of material will depend on personal preference, cooking style, and budget. It is important to choose a high-quality pan with even heat distribution to ensure consistent results.
Conclusion
In conclusion, the Le Creuset Cast Iron Crepe Pan is a top-notch choice for anyone looking to make restaurant-quality crepes at home. Its flat surface, low profile, and excellent heat control make it ideal for spreading batter thinly and evenly, producing thin and perfectly round crepes every time.
The pan's enameled cast iron construction provides superior heat distribution and retention, and its durable enamel coating resists dulling, staining, chipping, and cracking, making it easy to clean and maintain.
So whether you're a seasoned crepe maker or just starting out, the Le Creuset Cast Iron Crepe Pan is definitely worth considering.
Read More Post