Ayesha Curry Cookware lifestyle brand includes high-quality cookware collections made of porcelain enamel, hard-anodized steel, stainless steel, and porcelain enamel cast iron. In addition to oversized stockpots, more than 30 enamel on steel products is included in the collection, including Ayesha's absolute favorite, an adorable bacon grease can.
As an established blogger and YouTuber, Ayesha Curry first gained attention for her blog and YouTube channel Little Lights of Mine, focusing on faith, family, and nutrition.
Ayesha Curry's Food Network series Ayesha's Home Kitchen premiered in 2016, and her first book, The Seasoned Life, was a New York Times bestseller.
Currently, Ayesha Curry hosts Great American Baking Show and CoverGirl on ABC. Several hundred products in her new kitchen lifestyle brand reflect Ayesha's warm, welcoming personality, apparent in her style and home décor.
By providing up to 500,000 meals to kids in need with its No Kid Hungry campaign, Ayesha Curry kitchen products support this charitable cause.
Her culinary empire and lifestyle-related collaborations have gone from strength to strength, and Ayesha Curry has developed an approachable way of cooking, creating, and celebrating flavors.
Here, I am going to give a brief overview of Ayesha Curry Cookware.
Ayesha Curry Home Collection Nonstick Cookware Pots and Pans Set, 9 Piece
Key Features
Unique and modern design
Can use for both cooking and serving purpose
Dual- Riveted Handles provide comfort to handle
Shatter- Proof Lids that keep heat and moisture inside
Easy to clean due to raised nonstick raised surface
Ayesha Curry cookware provides practical features and gives your kitchen a sleek and modern appearance. The cookware you use on your cooktop can be brought to your table after cooking. Both in the kitchen, while cooking, and on the table when serving, the design complements each other perfectly. The cookware set includes 1.5-Quart Saucepan with Lid, 2-Quart Saucepan with Lid, 5.5-Quart Dutch Oven with Lid, 8.5-Inch Frying Pan, and 12-Inch Frying Pan with Lid. Further, the stainless steel handles are dual riveted and provide a comfortable grip. Despite its versatility, the cookware set can retain its performance in the oven up to 500°F. The shatter-proof glass lids keep heat and moisture inside and keep the flavor in your food protected. Also, you can easily clean the raised nonstick surface since it quickly releases your food.
There is a drawback in that the cookware cannot be put in the dishwasher; for best results, washing it by hand is advised. To remove tough stains, boil water and vinegar together.
Body Construction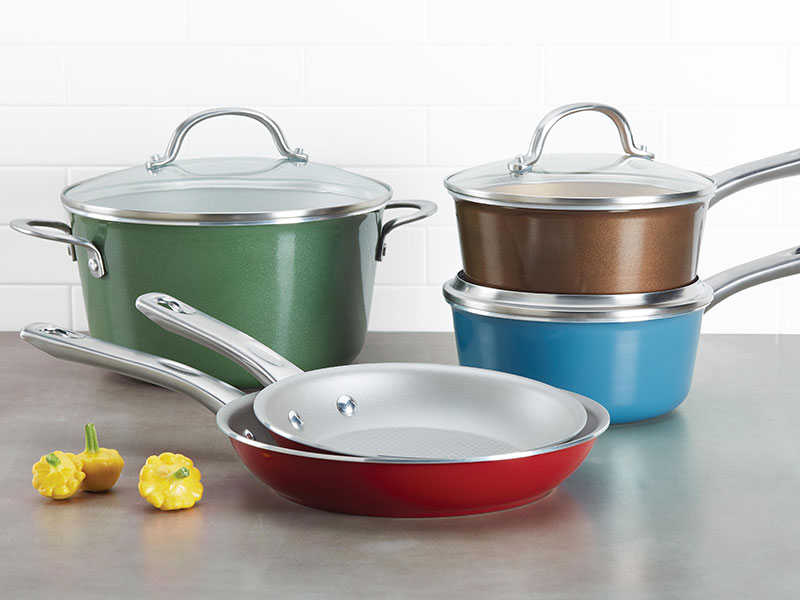 The inner core is made of cast aluminum. Cast aluminum generally contains heavy metals such as lead. However, this aluminum is totally free of all of these substances.
Multi-color enamel is smeared onto these pots and pans for nonstick properties. The nonstick layer has a nonporous and shining surface, which is extremely attractive.
The elderly can comfortably use them because they are extremely light. Furthermore, due to its uniformity, aluminum transmits heat evenly from the bottom to the upper surface.
There is a diamond texture applied to the cooking set's bottom portion. Diamond-finished nonstick surfaces help to evenly coat the cooking plate with small amounts of oil.
Handles
There is a stainless steel design used in Ayesha Curry Cookware. Heat cannot travel through the center because it is hollow. It has a marginal impact, however. The temperature does still rise quite a bit. Either way, it is recommended to wear gloves. This metal handle has another benefit. It is possible to get a higher oven-safe temperature. Typically, the silicone or plastic handles can only be baked at 350-400 degrees Fahrenheit. The maximum temperature that Ayesha Curry Cookware can be used in an oven is 500 degrees.
In terms of comfort, it isn't as good as this handle. This cookware does not have a downward slope as other cookware does, which means that it cannot conform to your hand. If you have greasy hands, the surface can be slightly slippery.
There is a thin and uncomfortable handle on the pots. When you use it for a long time, you may get uncomfortable with it. Unfortunately, that's not likely to happen.
Lids
All lids are made of tempered glass. There is a crystal clear view of whether the foods are going to cook. Also made from stainless steel, the covers' handles have a brush-finished surface & are riveted together.
On every lid and edge, there is a stainless steel metal piece protected by a mirror finish. Lids don't crack easily, so they don't get damaged. All three saucepans, the sauté pan, & the Dutch oven come with lids.
Cooktop Suitability
Ayesha's home collection is unsuitable for induction cooktops.
These pots and pans can be used in the oven up to 500°F and their lids up to 350°F. Except for induction ranges, enamel sets can be used on any stovetop or oven.
Pros
The nonstick coating is safe for human health.
Shatter-proof lids keep your food fresh and prevent moisture from escaping.
Even if the cookware is overheated, the porcelain will not produce toxic fumes.
Toxins are completely absent from this coating.
Mineral leaching on food is prevented by it.
Cons
It is possible for layers to crack if they are overheated.
Repairs are much more costly.
Cookware can be damaged by a simple drop.
Dishwashers cannot be used.
Also Check: The 3 Best Karahi Pot Cookware for Best Cooking
Conclusion
You will find everything you need in this collection of inspiring, high-quality cookware to whip up delicious and homey weeknight family meals or make a lasting impression with new recipes for family brunches, date nights, or holidays get-togethers. A gift of this cookware is an ideal starter gift if you are starting your life in your new home.